As the leaves change color and the air turns crisp, it's time to refresh your home's interior to embrace the warmth and coziness of fall. This season, interior design trends are all about creating inviting spaces that reflect the beauty and serenity of autumn. Whether you're looking to make small changes or embark on a full-scale transformation, these fall interior design trends will inspire you to turn your home into a comforting haven.
Warm Color Palettes: Celebrating Earthy Hues
This fall, embrace earthy color palettes that evoke the serenity of autumn. Think deep terracotta, olive greens, and spicy rusts. Incorporate these shades through accent walls, cozy throws, or new upholstery. These warm hues create a comforting and sophisticated atmosphere.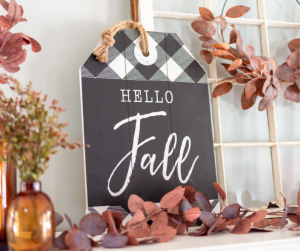 Cozy Textiles: Layers of Softness
Layering your home with soft and luxurious textiles is key for fall. Plush rugs, velvety cushions, and chunky knit throws invite you to snuggle up and relax. These elements not only add tactile appeal but also keep you warm and cozy during the colder months.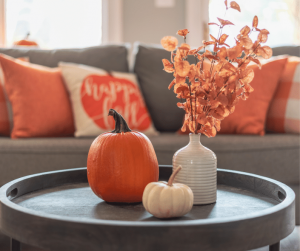 Biophilic Design: Bringing Nature In
Biophilic design remains a strong trend. Invite the beauty of nature into your home with botanical prints, fresh floral arrangements, and natural wood furniture. Houseplants, of various sizes and species, create a calming and invigorating atmosphere.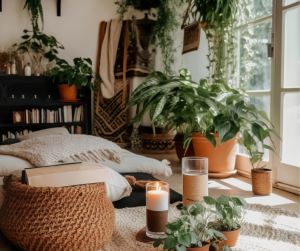 Candlelit Ambiance: Perfecting Lighting
With shorter days, lighting is crucial for setting the right mood. Candles, lanterns, and warm-toned bulbs create a cozy and intimate atmosphere. Opt for candle holders and lanterns with metallic finishes for an elegant touch.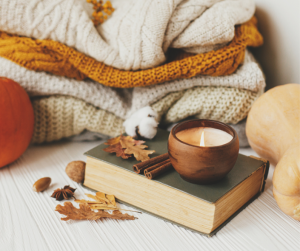 Seasonal Centerpieces: Tablescapes of Autumn
Decorate your dining and coffee tables with fall-inspired centerpieces. Use pumpkins, gourds, fall leaves, and candles to create a charming focal point, perfect for gatherings and meals.